Deprecated: Cannot use "parent" when current class scope has no parent in /home/clients/f502d7bae53c52afd2099dd37bee6df2/zinenation/administrator/components/com_fields/helpers/fields.php on line 608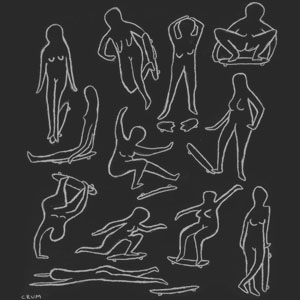 Shari & Kristin – The Skate Witches
When I started skateboarding in the early nineties, for whatever reason, there were very (very) few women.
Thus, it has been a great pleasure to me to witness their rise these past 10-15 years.
As Steve Rocco transformed the skateboard industry – from corporate to skater owned – in the 90s, women are revolutionising the industry again by running their own businesses without taking care what the dudes think anymore; ripping, creating brands, teams, videos and of course, magazines.
Without the shadow of a doubt, The Skate Witches is a key element in this revolution...
First thing, can you shortly introduce yourself? (Name, Age, ...)
​Shari White & Kristin Ebeling from the Pacific Northwest (Vancouver BC & Seattle WA respectively)
Can you tell us about The Skate Witches? At a time when almost everybody have their noses stuck on their screens, what motivates you to publish a printed zine?
​Shari: It's nice to have something to look forward too, get excited about, then realise. Rather than instant gratification that wears off quickly. It's a tangible collection we're excited to keep adding too.

Kristin: I just love print or physical things. It feels classic. I also like reading and writing.
Why The Skate Witches? What is the idea behind that name and what does it mean to you?
​Kristin: We had seen an old skate video called Skate Witches on YouTube, and thought it was really funny and badass. It features these punk rock women kicking boys off skateboards, having pet rats, etc...and the best part is that they weren't great skaters. When we were asked to be in a street skateboarding contest with 35th North Skate Shop, All City Showdown, we naturally picked "The Skate Witches" as our team name. From there, it gave us an excuse to get creative. I picked up writing again, Shari learned to screen print, and it just kept building from there. Skate Witches is a creative outlet for our community, a platform, but also an ethos. It doesn't matter if you're good, or you're cool. If you're down for skateboarding in the streets and not caring about what the dudes think, you can be a skate witch too.
Do you have zines references (of all kinds)? What inspires you?
​Kristin: I'm inspired by the works of my friends who create zines. Chelsey Del Castillo's Not Shit, and Marie Dabbadie's Xem Skaters are two big influences that come to mind. In general, what inspires me is being DIY, not waiting for someone to do it for me and figuring it out as I go. Failing and getting back up, just like when we skate! I also grew up not seeing many women in skate magazines so I'm inspired to change that.
Publishing your own zine is an amazing opportunity to send out a message or an idea.
Is there one (or more) message(s) you try to communicate through The Skate Witches?
​Shari: That we can create our own outlets and media. We can support & grow our womxn's scene. We can encourage and inspire each other.

Kristin: Also that skateboarding can and should be more inclusive.
Publishing a magazine/fanzine is a lot of work.
How does the making of an issue works? With whom do you work?
​We use a shared google drive and dump everything in there until it seems we have enough. Then we do a quick map out of the pages and being to put the pieces together. Shari works on the layouts and fine details, Kristin does all the writing like the editorial and reaches out to people for content like interviews, artwork, and so on.
Besides the time needed for its making, the production of a magazine/fanzine isn't costless. How do you manage The Skate Witches' financial aspect?
​We keep it black & white and print in bulk. We use the money from clothing sales to fund the printing of mostly at-cost or free zines.
Regarding finances, i noticed that there are no ads in it.
Is it a strategic choice in order to keep your editorial independence? In the case of you had advertisers, would you impose yourself some kind of safeguards?
​Shari: We've had a couple little ads for friends we don't charge for, because we want to support whatever they are promoting.
We've never reached out to look for paid ads, but no one has reached out to us to buy them either. It's not something we really need or have thought much about since we aren't trying to make money off it, and we have enough money from clothing sales to fund the printing. If someone did want and ad, yes, it would have to fit with the vibe of our zine.
In recent years the interest in print media has continually decreased. Skateboarding zines are increasingly harder and harder to find, even in skateshops. Do you worry about it?
​Shari: We really enjoy making them and giving them out at events, and people still buy them online. I haven't noticed a decline since we started.
At the same time, I have the impression that while less people are buying zines, more and more people are making them. Do you share that view?
​Shari: Yes, I do see a lot of low key zines and it's awesome. We just took part in a competition in Seattle by 35th North Skate Shop & Thrasher called "Zine Thing" where we got 2 disposable cameras and 2 weeks to make a zine. It was awesome. There were like 10+ teams.
Any plans for the future? How do you see The Skate Witches' future?
​Shari: Continuing to make zines and edits while our scene grows. Keeping it low key and highlighting the gems who may get overlooked in the instagram fame world.

Kristin: It's a marathon, not a sprint. We are going to keep on truckin' and follow where our hearts and minds of our community goes.
To conclude, if you had to choose between a session with your mates or finishing the next edition, what would you do?
​Shari: When we set a deadline to finish a zine for an event, I'm usually up to 3am doing the final PDF merge and uploading to Staples day of. So yeh, I'd miss a skate session to make sure we can give them out to all our friends at an event.

Kristin: Yep, we definitely miss out on skating sometimes to be able to complete projects for The Skate Witches.
Last word? Any shout outs?
​Big love to anyone who has submitted photos or art, anyone who rocks a t-shirt or buys a zine. We couldn't have this going without you. <3