Deprecated: Cannot use "parent" when current class scope has no parent in /home/clients/f502d7bae53c52afd2099dd37bee6df2/zinenation/administrator/components/com_fields/helpers/fields.php on line 608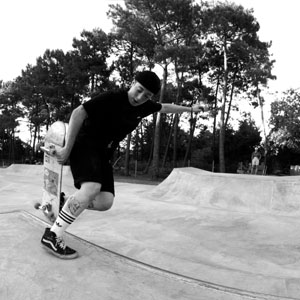 Malou – Equis
I'm usually more into design or visual things. Writing is not really my thing... and it's even more difficult to me to do it in english. That being said, I really would like to thank you very much for taking time to answer these few questions for my first (published) interview ever.
First thing, can you shortly introduce yourself? (Name, Age, ...)
My name is Marilou but my friends call me Malou (pronounced Maloo) since a long long time! I think my mom is the only one who calls me "Marilou!" when she's angry! ahah. I'm studying architecture but I'm really interested in graphic design and I love drawing. Indeed, I plan to start making tattoos.
Can you tell us about Equis? At a time when almost everybody have their noses stuck on their screens, what motivates you to publish a printed zine?
Equis was really born in my head in a bus when I came back to Bordeaux from my erasmus in Madrid. In this city I experienced beautiful skate spots and I captured them with my Canon camera. I walked and skated alone across Madrid's streets, and I only saw one or maybe two girls skating. So, in the bus I thought about the image of girls and queer skaters and noticed the fact that there were not that much publications about these people in skateboard or other disciplines. At my return to Bordeaux (my home town, in France) I told myself: "OK, now I have to write a zine to show the power of female and queer people, and what we can do by ourselves". Simultaneously I also met Marie Dabbadie (skater) who has been writing zines for a couple of years: "XEM SKATERS - Genderqueer skate zine". I was really impressed about their work and all they does simultaneously, this meeting really motivated me to take the plunge. Moreover, I want to highlight architecture forms in a city and create utopian spaces with my drawings. Because cities, architecture and urbanism are our playground as skaters.
Why "Equis"? Where does the name come from?
Haha good question! It comes from a new art-house cinema in Madrid that replaced an old X cinema from what they took the name: EQUIS. Equis means X in Spanish, I really liked the name and the new cinema where we had a great time with my Belgian friends, so I kept it. Thanks Shana!
Do you have zines references (of all kinds)? What inspires you?
Like I said before Marie's zine "XEM SKATERS" but also "THE SKATE WITCHES" zine or all zines or magazines with cool graphs, art, texts, drawings... I really appreciate "SKATEISM" skatemag and the last SOLO skatemag by Sarah Meurle where there are very interesting interviews in both. Moreover in the new SOLO (by Meurle), there is an interview of Alexis Sablone who has a very interesting opinion on the relationship between art and architecture. I have known this skater for a couple of months now, and she is very inspiring. That's why I have contacted her to get one of her drawings, the one in Malmö. She draw a skate place with stable sculpture. She sent me her drawings, but I have kept them secret for the third edition of my zine!
Publishing your own zine is an amazing opportunity to send out a message or an idea.
Is there one (or more) message(s) you try to communicate through Equis?
Sure! It is an amazing experience, that's why I really want to continue. It is a good opportunity to meet very interesting people! And the experience is bigger and bigger and I would like to travel more to continue this experience.
I just want to share my passion (skateboarding) to others skater and people who don't know this universe: illustrating how interesting this sport/hobby/game can be. That is why I also chose to share portraits of people I found interesting (artists, musicians, tattooists, and so on).
Publishing a magazine/fanzine is a lot of work.
How does the making of an issue works? With whom do you work?
Yes, because you have to do interviews, sometimes transcription when I record with my microphone. Sometimes I do the interviews on facebook or by mail, via a specific Equis account. I make my own drawings, that therefore take lots of time and sometimes I ask drawings from friends, artists or random people I met on instagram. I work with my friend Soph Ea who works on the english translation (thanks Soph!). I would like to do one in spanish but I haven't found a friendly translator to help me out yet. To make the zine, I use indesign for the layout, illustrator to make some illustrations and photoshop to make montages. I usually print in Bordeaux, but sometimes I print zines where I am, or sometimes it's very DIY because I cut the paper with a cutter and I staple it with a hammer!
Besides the time needed for its making, the production of a magazine/fanzine isn't costless. How do you manage Equis's financial aspect?
For the moment my mum helps me for that (thanks mom!). But I have sold my zines at a free price to at least cover the printing charges. I hope tattooing will help me finance my zines and all of my art work.
Regarding finances, do you accept any kind of advertisers? Or did you impose yourself some kind of safeguards?
That depend of advertisers, if I like their work, what they publish and their way of thinking it's a pleasure to be part of it!
In recent years the interest in print media has continually decreased. Skateboarding zines are increasingly harder and harder to find, even in skateshops. Do you worry about it?
Yes I really worry because I clearly prefer to read on a paper edition rather than on a computer. I really enjoy having in my hands a beautiful edition or a DIY zine because, it suddenly becomes more precious. I love editing, and I think I would like to follow a training in editing. I could stop my architecture studies to do this. It's a dream to make editions professionally.
At the same time, I have the impression that the less people buy zines, the more offer increases. Do you share that view?
Maybe, I don't really know the market of zines but we have to promote zines to make zines come to life! So we need people like YOU to do this hard work! BIG thanks you for your amazing work!
Any plans for the future? How do you see Equis's future?
As I said, I would like to make tattoo, draw more, follow studies/training in edition/graphic design, travel, learn photography and more...
To conclude, if you had to choose between a session with your mates or finishing the next edition, what would you do?
Both ahah! But surely a session withs my crew: the "WAAE crew", this is a love story, they are like my family.
Last word? Any shout outs?
We have to do what we want, and work hard to make our dreams come true. If there is one thing I learnt by making zines: it's when you have something in your head, GO, don't wait to do it!