Deprecated: Cannot use "parent" when current class scope has no parent in /home/clients/f502d7bae53c52afd2099dd37bee6df2/zinenation/administrator/components/com_fields/helpers/fields.php on line 608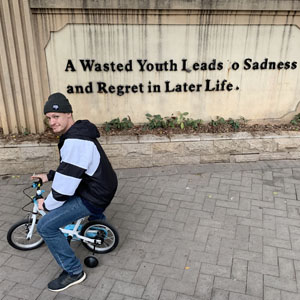 Pascal «Monkee» Lussmann – AJVT
Keeping skateboarding real and publishing the best magazine with very little, this is how the guys from AJVT crew do their best to give a little something back to skateboarding for everything it has brought to them over the years.
Straight outta the city of Bern, here is An Jedem Verdammten Tag.
First thing, can you shortly introduce yourself? (Name, Age, ...)
hi, my name is Pascal Lussmann aka Monkee, i'm 31 years old and i'm the «Graphics/Socialmedia & Networking» part of AJVT.
Can you tell us about AJVT? At a time when almost everybody have their noses stuck on their screens, what motivates you to publish a printed zine?
AJVT started as a graduation work of our Editor in Chief/boss. The feedback to it was enormous and many people asked if he wouldn't do a magazine. He asked his skatehomies (us) if we would try it. For sure we would. Well the AJVT Magazine was born. 5 years later we still here.
In the time of socialmedia, all the photos live only for seconds. You see them, like them and forget about them. So what more can you wish for than have your photos printed in a mag.
To do something that brings joy to people is motivation enough.
Why AJVT, and what does it mean?
AJVT stands for «An Jedem Verdammten Tag», which means «Every damn day» in german.
Because skateboarding ain't no damn sport, it's life and life happens every damn day ;)
Do you have zines references (of all kinds)? What inspires you?
No we don't. The only references we have is, that we've read many of them. Hahaha.
Skateboarding gives us a lot and made us what we are, so we try to give something back.
Publishing its own zine is an amazing opportunity to send out a message or an idea.
Is there one (or more) message(s) you try to communicate through AJVT?
Keep skateboarding real!
Publishing a magazine/fanzine is a lot of work.
How does the making of an issue works? With whom do you work?
It starts with a simple mail to all the photographers we work with, to inform them that we gonna do a new issue soon. While the photos slowly drop in, we try to get enough ads and money for the production. Once this step is done and we have enough photos, we do the photo meeting. That means we (all 7 OG members) sit together have some beers and sort the photos. This can take hours. The next step is putting the mag together (mostly done by the Editor in chief and his henchman), that means try to figure out which photos fit where, do the lil textwork, print it and check it. If it's ok, we send it into production. If not, we have to fix it. Hahaha
Besides the time needed for its making, the production of a magazine/fanzine isn't costless. How do you manage AJVT's financial aspect?
As you see when you flip through the mag, we have some advertising-sites in it. So every advertiser pays a lil amount of money. For the rest oft he money needed, we do lil events like Game of SKATEs where we can sell food and drinks. We're also selling a lil amount of merch products so we can get the money we need fort he production. As you see all the money we make floaths directly into the next issue. The more money we make, the less ad's will be in the mag.
Regarding finances, despite the fact that AJVT is a free magazine there are very few ads in it. How do you manage them? Do you carefully sorte them?
Do you accept any kind of advertisers or do you impose yourself some kind of safeguards?
That would be cool if we could sort them. It's more like we have to hustle to get enough ads.
Otherwise we try to keep the ads around skateboarding and its lifestyle. You'll never find an ad for babypowder or whatever in our mag. It has to fit with what we do. You see we're a lil bit picky ;P
In recent years the interest in print media has continually decreased. Skateboarding zines are increasingly harder and harder to find, even in skateshops. Do you worry about it?
Yes I do, because i grew up with magazines and still love them. From my point of view, every skateshop should sell magazines or at least have them in store so you can flip trough the pages while you're at the shop. Same with videos, bring back the good ol' couch corner with the tv. So you can meet up with the homies at the shop and watch the newest shit.
At the same time, I have the impression that while less people are buying zines, more and more people are making them. Do you share that view?
Hell yeah, but nowadays most of the mags are for free, so i think it's cool because you have the possibility to check out «other scenes/crews» with ease.
Any plans for the future? How do you see AJVT's future?
The plan is to takeover the whole print business and outdo the thrasher mag.
To conclude, if you had to choose between a session with your mates or finishing the next edition, what would you do?
Finish the mag and then go skate.
Last word? Any shout outs?
Shout out to all the brothers involved, the sponsors and all the homies we work together.
Big thanks to everybody who is down with us. Keep it real and see you at the next release or session or whatever.

Cheers
Monkee