Deprecated: Cannot use "parent" when current class scope has no parent in /home/clients/f502d7bae53c52afd2099dd37bee6df2/zinenation/administrator/components/com_fields/helpers/fields.php on line 608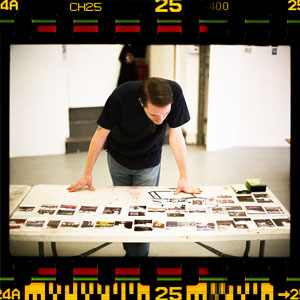 Tom Quigley – Varial Magazine
Things come and go. You buy a new board; you wreck it at your first session. You build a new spot; the city destroys it after a short week. You eagerly await the release of your favourite skate zine; you learn that there will be no new issue. That's life.
Tom has worked hard for 6 years on Varial Magazine... but like most passionate people, he has only one head, two arms, 24 hours a day, and so many projects in mind. There comes a time when you have to make choices...
First thing, can you shortly introduce yourself? (Name, Age, ...)
Hey Daniel, I'm Tom Quigley, 31, and I skate & shoot photos in my hometown of Nottingham, UK, amongst other places!
Thank you very much Tom for taking time to answer these few questions.
I sadly heard that the sixth issue of Varial will also be the last one. How did you come up to make that tough choice?
That's correct, it's just time I think - I've been doing Varial for 6 years now, and publishing a magazine while still holding down a day job and doing other projects hasn't gotten any easier. I've had a blast putting together each of these 6 issues over the years, but the reality is an issue can take over a year to finally see through to print, and staying on top of the social media every day is also quite time-consuming. Plus the main factor is how expensive it is - it's great that lots of rad, independent skate companies have advertised in Varial, but the adverts only ever covered a portion of the printing costs. I've been doing 1000 copies each time since issue 4 though, and sending them out to over 40 different venues around the world, so I'm stoked at how far the mags will have gone.
Can you tell us about Varial? At a time when almost everybody has their noses stuck on their screens, what motivated you to publish a printed zine?
​I grew up reading magazines at the skatepark, perched on top of the mini ramp in awe of the amazing photography in Document and Sidewalk. The internet & social media hadn't quite dominated things back in the early 2000s - so that's where I came from, and that's what I recognised as the obvious place to present your photography, in print. Years later I still had that in mind when thinking about making something tangible, that you can hold in your hands. I've got to give a shoutout to Grey magazine for further inspiration back then as well - seeing their mag come out as something small, pocket-sized, and given away for free, made creating a magazine seem more accessible to anyone - it wasn't this unachievable thing like what the bigger mags seemed to be to the everyday person.
Coming back to Varial, I can easily imagine from where the name comes from, but can you tell us why you chose it?
I just wanted a word that was unique to skateboarding, and I also liked the connotations of "varial" to similar words such as various & variety - as it was always going to be a very open publication, showing the diverse range of photographers in these parts.
Do you have zine references (of all kinds)? What inspires you?
I have far too many zines! I have a big collection that has definitely inspired me over the years - all different formats, sizes, types of paper... I also have a stack of recent mags that I've not had a chance to get through yet. I've had to stop buying new ones for the time being! Some favourites over the years include 43 Magazine (wish they'd make more!), SOLO, Florecast, North (still shooting film...), Dogpiss, Hangup, BE...and so many more, but can't mention them all - these are the few that came to mind. I love seeing anything new though, anything some kid has put together, be it handmade, professionally printed, or photocopied - anything keeping independent print something that's accessible and achievable by all.
Publishing your own zine is an amazing opportunity to send out a message or an idea.
Is there one (or more) message(s) you tried to communicate through Varial?
Absolutely - I guess the whole point of creating something is to share a little piece of your perspective on the world. With Varial, I wanted to shine a light on the local scene - Nottingham at first, and then all of the East Midlands soon after, both to share what's happening here with the rest of the UK (and the world!), and also to stoke those locals who can finally see themselves or their mates in a printed magazine. Before, even just seeing a hometown spot in one of the more established magazines was a big deal for those that live there! Furthermore, Varial was a way to encourage up-and-coming photographers to be productive, and give them a more accessible platform to get their work published - as well as a way for me to share the best of my own work in print, of course. It was always an independent thing too, so I hope it conveyed that ever-important message of supporting your scene - doing something to fuel the passion for skating, photography and keeping print alive.
Publishing a magazine/fanzine is a lot of work. You told me that it took you almost one year per issue.
How did the making of Varial work? With whom did you work?
It was always just me - probably why it took so much work! Photo submissions would slowly come in over the months - the cold, wet winters would always cause a delay - and then I'd eventually start laying it all out and contacting potential advertisers. It was only something I could take care of around my day job - and weekends were often reserved for shooting! Then I'd also have other projects on the go, such as organising various exhibitions - so it was always a delicate balance and things would get pushed back. When I was doing the shooting, and designing, it was always great fun - but gradually I would be going over my deadlines, and then extended deadlines to get it to print, and that part became less fun. But once each issue was back from the printers I would get a chance to relax and enjoy the thing that I'd spent so long putting together. And that's what'll stand the test of time - the mags on people's bookshelves and in the skater-owned shops.
Besides the time needed for its making, the production of a magazine/fanzine isn't costless. How did you manage Varial's financial aspect?
I started getting independent skate companies keen for ad pages early on, which would tend to cover about half of the printing costs. I was prepared to pay some of my own money each time to continually push the size of the print run, and to pay for shipping the magazines to venues around the country. Selling adverts was always tiresome, waiting for artwork and payment even more so, but it was necessary to help make it somewhat viable to keep doing Varial. Naturally I'm super grateful to all the advertisers that were involved, and their adverts will continue to be seen when reading Varial online.
Regarding finances, did you accept any kind of advertisers? Or did you impose yourself some kind of safeguards?
I did get some unusual requests over the years, from "streetwear" brands and stuff like that. While they may have been independent, I felt it best to stick with skateboarding advertisers, as that's what the readers will want to see - I didn't just accept anyone for the cash. For the most part though, it was skater-owned shops, parks and brands, doing rad stuff for the UK scene, that I was able to work with.
In recent years the interest in print media has continually decreased. Skateboarding zines are increasingly harder and harder to find, even in skateshops. Do you worry about it?
I think the opposite might actually be true, there are so many zines out there now! But it is the big, established publications that are disappearing after all this time, which is sad to see. I have faith in skateboarders though, they're the most creative and resourceful bunch, so it's no surprise that you have so many independent mags available in the Zine Nation shop. Print isn't dead!
Any plans for the future? Will we have the chance to have Varial's little sister/brother in our hands in 2020?
Absolutely! I always have several projects on the go at once, and loads of ideas in my head that I'll eventually get done. I recently did a new solo exhibition for the first time in 4 years, with all my film photography. Along with that I did another 56 page handmade zine, which is always fun and straight forward to put together.

I've also started something called Futurist Pictures, which is going to be my new ongoing project - more of just a creative platform for me to share my photography, but also explore video & art as well. It's based around travel, skateboarding, and cities around the world, so it's really just an excuse for me to get out of the East Midlands and travel more! I'll be looking to work with other artists & photographers on limited prints, and naturally there'll be a printed magazine of some sort, maybe occasional one-off publications. See more at @futuristpictures on Instagram or www.futuristpictures.co.uk.
To conclude, if you had to choose between a session with your mates or finishing the next edition, what would you do?
Depends what mood I'm in! If I want to be creative and get projects moving, I'll sacrifice the sunshine for a day of editing & designing. But if my shutter finger is itching to go, or I just want a chiller, I'll be out for a roll somewhere!
Last word? Any shout outs?
Big thanks to each and every photographer that sent their work for Varial consideration - whether it made it into the mags or not. Keep shooting, and keep sending your photos to mags! Shoutout to Forty Two shop & Skate Nottingham, holding it down for the Notts scene, and big ups everyone who's keen for those photo missions so we can get shit done!

Cheers for reading - now go create something!