Deprecated: Cannot use "parent" when current class scope has no parent in /home/clients/f502d7bae53c52afd2099dd37bee6df2/zinenation/administrator/components/com_fields/helpers/fields.php on line 608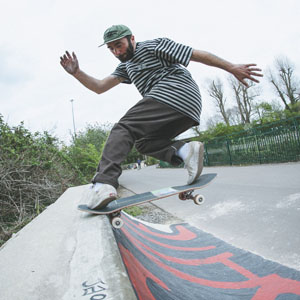 Ben Haizelden – Dogpiss
Paying attention to details... no matter how long it will take, to finally reach the essence of skateboarding. Dogpiss IS skateboarding; for the beauty of the gesture... and for fun.
First thing, can you shortly introduce yourself? (Name, Age, ...)
My name is Ben Haizelden and I'm 40 years old and I live in Bristol, England.
Can you tell us about Dogpiss? At a time when almost everybody have their noses stuck on their screens, what motivates you to publish a printed zine?
A love for skateboarding and the people involved in it.
At university I studied photography and have a real passion for printing and physical photographic objects. I just like making things that are tangible. I also wanted to save some awesome images from disappearing into the internet black hole.
Print is important. And making a magazine is rewarding.
Why "Dogpiss", and what does that name mean to you?
It's just a name.
Do you have zines references (of all kinds)? What inspires you?
For the magazine there aren't really any references. The magazine is there to celebrate skateboarding and skateboarders. I wanted the content to be as high quality as possible and for the design and layout to serve that content, not the other way round.
Publishing its own zine is an amazing opportunity to send out a message or an idea.
Is there one (or more) message(s) you try to convey through Dogpiss?
I guess I just want to engage with and represent all types and levels of skateboarding. From the dude at the park doing a rock n roll on a quarter pipe to someone who's capable of 360 flip lip sliding a handrail. Everything is important and it's what makes skateboarding the best thing ever. It's about the passion that shows through in some people no matter their ability.
The one message I would say is important to me though is don't be afraid to make mistakes or fail. It's better to fuck something up than not even try.
Publishing a magazine/fanzine is a lot of work.
How does the making of an issue works? With whom do you work?
I get submission from a network of rad photographers ( Craig Dodds, Tom Quigley, James Griffiths, Rich Downton,Tim Smith, Ruben Morais Claudino, Dave Bevan, Rob Salmon, Danny J Parker, Lewis Royden, James Chin Collins, John Finucane amongst others). I contact artists to see if they'd like to put a feature together with me.
Once I get a good deal of work together I start editing it down to what will be included and flesh that out in a rough indesign file to sort out the pacing. I'll also start on the layout of the individual features.
It's mostly done in small bits here and there as I don't really get large amounts of free time due to family and work commitments. Basically I work a little bit but often. And then in the last month before it goes out I'll be putting in real hours to polish it up and attempt to dot all the i's and cross all the t's. Then I just cross my fingers that there aren't too many mistakes that slipped through the net.
Besides the time needed for its making, the production of a magazine/fanzine isn't costless. How do you manage Dogpiss's financial aspect?
It's pretty difficult. The magazine itself is an expensive endeavour as I print on heavy paper stock and the cover is laminated. I just want to produce the best magazine that I can afford to.
Where there's a will there's a way.
Regarding finances, do you accept any kind of advertisers? Or did you impose yourself some kind of safeguards?
I have advertisements from Shiner and Rock Solid Distrubution, amongst others, which helps a great deal.
There doesn't seem to be any need to have any restrictions on who advertises in the magazine, yet.
In recent years the interest in print media has continually decreased. Skateboarding zines are increasingly harder and harder to find, even in skateshops. Do you worry about it?
I don't worry about it... I just keep making the magazine and enjoying the process of it. It's been amazing making contact with and building relationships with people all over the world.
At the same time, I have the impression that while less people are buying zines, more and more people are making them. Do you share that view?
I don't know. I can't really answer that In an informed manner. It certainly appears that there are more people making zines than a few years ago.
Any plans for the future? How do you see Dogpiss's future?
Just keep doing it. I've stopped worrying about deadlines, just gonna put an issue out when it's done. It's hard to say what the future holds, but it'd be nice to see a little growth in the distribution of the magazine. Spread the love about.
To conclude, if you had to choose between a session with your mates or finishing the next edition, what would you do?
The magazine can wait.
Last word? Any shout outs?
Sincerest thanks to anyone who has bought a magazine. To my friends and family who support me in this endeavour, I love you.
And I'd really like to thank Neil Macdonald of ScienceVersusLife instagram and Tim Leighton-Boyce for putting together such an amazing interview in the most recent issue. It was such a rad experience putting that together.
And last but not least Nick from Palomino and yourself for supporting and promoting the magazine, it means a lot.